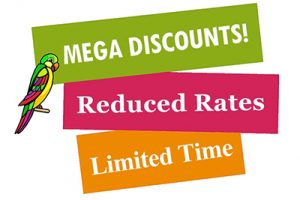 The Rainbow Hill Villa, located in the hills of Cochrane, Dominica, is a welcoming retreat for both leisure seekers and business travelers.
With cool comforting breezes year-round, the Rainbow Hill Villa is the perfect place for vacationers, business travelers, trail hikers, bird watchers and other nature enthusiasts.
New lower rental rates, discounts up to 36% of 2017 prices.
Stay in our 2-bedroon downstairs suite, the 3-bedroom upstairs suite, or reserve the entire home. Each suite has two (2) bathrooms, full kitchens, dining areas, cookware, dishes and other essentials.
Additional services and amenities, on par with reasonable prices, make us stand out and win over both visiting tourists and business travelers.

Just a few reasons to choose the Rainbow Hill Villa while in Dominica…
Free WIFI
Because both vacationers and business travelers need to access the Internet anywhere!
Services
Weekly housekeeping and per request services such as grocery shopping, taxi services…
Gated Property
Gated facility with ample parking and beautifully landscaped grounds and gardens.
Check-in, Check-out
Flexible check-in and check-out upon request, made with our guests' comfort and timing in mind…
As a business person who travels all year long, I can say that Rainbow Hill Villa has everything that a traveler like me may need.
While visiting Dominica last summer our family of four stayed at the Rainbow Hill Villa. Our only disappointment was having to leave.
I've stayed at a lot of vacation homes throughout the Caribbean. Rainbow Hill Villa is definitely one of the best.
See Our Blog for News & More!